Weight Loss Made Easy 2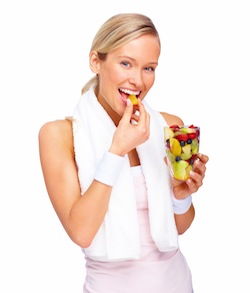 The second installment in the weight loss series sessions. 'Weight Loss Made Easy' introduces new and powerful suggestions to ensure that weight loss is consistent and sustained.
Diet programs are all subject to your conscious mind. The same mind that bogs itself down in over analysis, self-doubt, and limiting past beliefs. Your conscious mind never lets you forget past failures. "You've tried diets before and they never work, so why should this one?" You've probably heard that voice in your head more times than you would like to remember. So how do you silence that voice?
When you're in a relaxed trance state of hypnosis you will be able to identify some of your self-defeating thoughts about food. Maybe you were taught as a child to "always clean your plate", so you continue to eat even when you're no longer hungry. Perhaps you associate food as a reward or a way to fight feelings of loneliness or boredom. By reframing your limiting thoughts related to food, you can begin to change your relationship with both food and exercise.
Utilizing hypnosis, you can replace your negative thought patterns with new thoughts that will build your self-confidence and minimize your need to use food to help you feel better. It will also help you formulate more positive thoughts about healthy food and exercise. You'll begin to find eating healthy portions of healthy food more appealing.
Order the "Weight Loss Mader Easy" hypnosis session and sustaining the weight loss long
term!
Download Price: $39.95
To purchase this download, fill out all the information below (all required), and click the "Buy Now" button. Please make sure that you enter a valid email address, as your file download instruction and any available additional content for this session are sent to the email address you provide here.
**Please Check Your SPAM/JUNK FOLDER If You Do Not See An Email From NY Hypnosis In Your Inbox**