Cross Bridges Free of Fear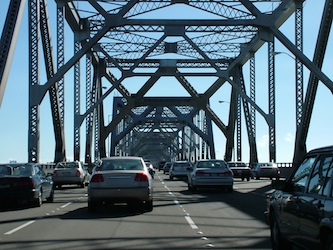 STOP avoiding required travel and STOP missing out on traveling to exciting destinations!
People who suffer from Bridge phobia usually imagine an fear a bridge falling apart while on it. These unhealthy thought patterns can be triggered by past traumatic experiences. Your fear of bridges was formed in your subconscious mind when it somehow connected the word bridge with something dangerous happening. This formed a thought pattern that is automatic, and pops up almost instantly every time you see a bridge.
The most effective way to overcome a bridge phobia is to identify the thought patterns in your subconscious that trigger the fear of bridges response. Hypnosis can help you retrain your subconscious mind to use a more appropriate and positive thought pattern as opposed to your limiting thought patterns. Hypnosis can help you unlock the inner resources that will help you to switch thought patterns to easily overcome your bridge phobia.
Many people suffer unnecessarily from being afraid of driving over bridges -- if you're one of them, retrain your mind with hypnosis and move beyond your fear!
Set yourself free, and order the "Cross Bridges Free of Fear Now!"
Download Price: $39.95
To purchase this download, fill out all the information below (all required), and click the "Buy Now" button. Please make sure that you enter a valid email address, as your file download instruction and any available additional content for this session are sent to the email address you provide here.
**Please Check Your SPAM/JUNK FOLDER If You Do Not See An Email From NY Hypnosis In Your Inbox**