Overcome Ezcema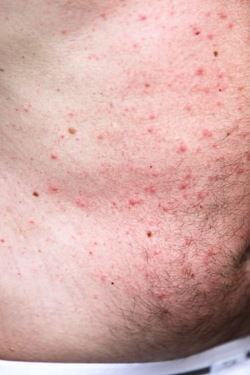 Finally, the vacation you and your family have been waiting for all year. You are heading down to the pool for some swim time, but you have a sick feeling in your stomach. You know that when you get into the pool your eczema will be visible to everyone. The itchy splotches on your legs make you look like you have some terrible alien disease. The constant scratching leaves your arms raw to the point that the chlorine in the pool stings as you get in. Everyone stares as you swim and play with your children as if you were a monster. One little boy leans over to his dad and says "Daddy, what's wrong with that person?" The discomfort and embarrassment become too much to bear. You tell your family you are not feeling well and need to go back to the room to lie down for a bit. You hurry out of the pool area feeling embarrassed and ashamed, making sure to cover your entire body with your towel.
Our society is incredibly judgmental when it comes to one's appearance. We are inundated with pictures in magazines and commercials on television that seem to suggest what the "perfect" person looks like, the clothes they wear, even the soda they drink. Anything outside of those parameters, to some, is cause for alarm. Having a condition like eczema can sometimes devastate one's self-confidence. No one likes to feel different much less be pointed at, stared at, or made fun of...all due to a condition that is beyond their control.
Download Price: $39.95
To purchase this download, fill out all the information below (all required), and click the "Buy Now" button. Please make sure that you enter a valid email address, as your file download instruction and any available additional content for this session are sent to the email address you provide here.
**Please Check Your SPAM/JUNK FOLDER If You Do Not See An Email From NY Hypnosis In Your Inbox**