Public Speaking Made Easy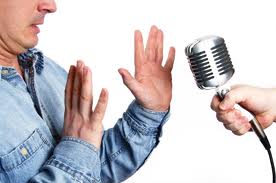 Do you cringe at the thought of speaking in front of an audience?
The anticipation builds days, if not weeks ahead of time. You prepare and memorize your talking points, but you just cannot shake the nervous feeling that is building. The day arrives and the fear is building. You take your place in front of the group. All eyes are on you. Everyone in the room is listening intently, waiting for you to speak. The silence is deafening as you struggle to form your words. You freeze and the fear causes you to forget everything you've memorized. You begin to feel the audience becoming uneasy. If only you could stop your heart from pounding so loudly!
Speaking in front of a group can be intimidating. There are few activities that can produce tension and anxiety as quickly as public speaking. Most speakers have experienced performance anxiety in some form and to various degrees. Feelings of fear and apprehension are accompanied by increased and prolonged physiological arousal.
Hypnosis is a performance strategy that works. Utilizing hypnosis you can reduce stress, stay focused and present while overcoming self-defeating habits. It can help you to remove distractions as it all happens subconsciously.
The "Public Speaking Made Easy" Session teaches you how to relax and stay calm even under the most stressful conditions. It can help you replace those negative thoughts with positive ones. Hypnosis helps to create the proper level of relaxation, and uses powerful hypnotic suggestion and visualization which will help you to speak easily and effortlessly in front of groups.
Order the "Public Speaking Made Easy" session today and let hypnosis guide you to Public Speaking Excellence!
Download Price: $39.95
To purchase this download, fill out all the information below (all required), and click the "Buy Now" button. Please make sure that you enter a valid email address, as your file download instruction and any available additional content for this session are sent to the email address you provide here.
**Please Check Your SPAM/JUNK FOLDER If You Do Not See An Email From NY Hypnosis In Your Inbox**