Exercise Made Easy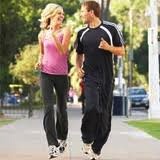 So you've talked yourself into joining a gym. You walk up to the doors and all you can think about is your high school track coach yelling "Run faster!" As the doors open, the little bell above the door chimes. You walk in and immediately all eyes are on you. You, in your baggy old t-shirt and shorts. You immediately notice that everyone working out is already in excellent shape. You feel like the only person who really needs to be working out. You apprehensively make your way over to the treadmill, only to realize you have no idea how to operate it! The sheer number of buttons all blinking this way and that is enough to make your head spin. Embarrassed, you move over to the weight machines. The man next to you is pumping iron like a pro and you still can't figure out the pictures on the instructions. Feeling defeated, you walk out not having exercised one bit.
If you have ever felt this way when approaching a new exercise routine, chances are you are not alone. Many people feel embarrassed or self-conscious when exercising. Maybe these individuals were made fun of for being overweight when they were younger and so those feelings of shame and embarrassment resurface when they are in an exercise environment.
Hypnosis has been used for many years to help people overcome their fear of exercising, thus making their workouts easy and even enjoyable. Our Exercise Made Easy download session can show you how to become calm and centered so you can dig deep into your subconscious and remove any negative thoughts you may have about exercise. Those negative thoughts are then replaced with positive thoughts, thus allowing you to feel confident in any exercise setting.
Download Price: $39.95
To purchase this download, fill out all the information below (all required), and click the "Buy Now" button. Please make sure that you enter a valid email address, as your file download instruction and any available additional content for this session are sent to the email address you provide here.
**Please Check Your SPAM/JUNK FOLDER If You Do Not See An Email From NY Hypnosis In Your Inbox**